Déjà un petit temps que nous n'avions plus visité le bikers ' café de Rumst ( above Mechelen) .
Toujours aussi tof et nicotiné: biceps tatoués ayant une bonne descente , brylcream, nanas aguichantes, jukebox rockabilly . Toi, le Brusseleir ,t'es pas considéré comme un intrus et on t'offre volontiers une verse pintje ...atmosphère d'un autre siècle !
En vanavond :Paul Batto jr.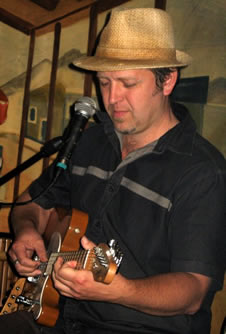 Autant te prévenir sans ambages ,le Pol ne nous a pas menés en bateau . Un putain de bon bluesman à la black voice , accompagné d'un fabuleux pianiste , et ce duo est des plus sympa .Als ze terugkomen , je serai présent ,for sure!
D'où sort-il ,junior?Ljubljana ,Slovénie , mais il a émigré chez les Tchèques .Il est sur les routes depuis plus de 20 ans à chanter le blues et le gospel .Ce soir il a emmené Ondra Kriz (Kříž,en fait) dans ses bagages ,compatriote de Václav Klaus, et crois -moi ,ce Čech sait amadouer les noires et les blanches.
Discographie?'I'm a Gypsy' il n'avait plus de copies à vendre, alles weg, et un nouveau CD 'Gospel' , bien parti pour suivre la même voie , les rockabilly lovers ayant retrouvé la foi!

20:30'
It's officially bluestime, qu'il nous dit !
Un piano ,une voix ,perchée sur un tabouret :'Is You Is' Louis Jordan ,1944. Incroyable filet , du jazz blues with syncopated vocals .C'est bien parti , mon kiki.
Même piste amerloque entre- deux- guerres 'Ain't nobody's business' .
Paul à la guitare ,une de ses compos ' Smiling Blues' ,magnifique twelve-bar ,ce mec a vécu le Slovenian blues . Timbre idéal , jeu de guitare sans fioritures et lignes de piano parfaites.
'Ain't that one way' toujours de sa plume, un downtempo paresseux avec clavier voyageur.
Time for some slide and fingerpicking :Robert Johnson 'I'm a steady rolling man': just great!
'What you gonna do?' laidback à la Eric Clapton ,époque Delaney & Bonnie. Nouvelle slide qui tue.
Retour aux sources gospel ,repos pour la gratte :' Georgia on my mind' le grand Ray réincarné en Slovène.Du late night soul /blues imparable , les ivrognes pleurnichent dans leur godet.
Une autre vieillerie irrésistible , le negro-spiritual 'Nobody Knows' version Bessie Smith.
Même veine 'Ain't misbehaving' Fats Waller,du crooning à la Louis Armstrong.
Le set se termine par un électrique country picking 'Keep your child' que l'on retrouve sur 'I'm a gypsy' ,beau comme du Van Morrison.

Set 2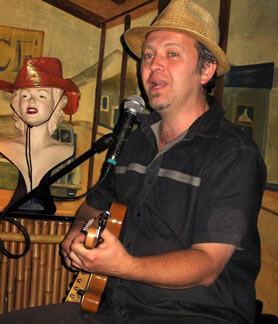 Une brave dame m'a imploré de jouer ceci :..Smile though your heart is aching ...Nat King Cole 'Smile' ,music Charlie Chaplin,words J Turner /G Parsons , une sucrerie à vous rendre amoureux.Hors- d'oeuvre hors programme! Encore une request, je peux jouer un petit truc avec vous ,voilà Pascal des Ulers ,sortant un ruine-babines de sa poche ,sur scène .Un méchant petit blues de Sam Cooke 'Driftin Blues' ..I gave you all my money tell me what more can I do ... t'as plus de blé, chouke ,bye bye ...
Classique et gluant . Le Pascal s'installe (style Michel Blanc 'Viens chez moi ,j'habite chez une copine') nouveau blues poisseux .
Retour au programme prévu :'Stomping at the Savoy' du cocktail piano blues ,en pensant à Ella Fitzgerald.Un nouveau titre for the following album :' 'Put your load down' une ballade dédiée à un gars qui voulait se tirer une balle dans la citrouille.
'Rock me baby' hey ,Ondra, gimme some of that mean piano..Dont acte!
'Love at last' une romance ,suvie d'une autre love song 'Through the fire' , petite valse à la Leon Redbone/Ben Sidran.
Second degré ' Watch your hairy toe' , très fifties.Back to some electric blues 'The Storm is coming' et une dernière à la slide 'Waste crying in the wilderness' blues bien juteux ... baby don't you cry now Come & sit on daddy's knee...Ce gars sait écrire une bonne chanson. Il n'a pas le temps de se commander une trappiste , les as du café gueulent comme des putois en rut et Polleke is back on stage:..Shut up if you want more,potferdeke... :'Amazing Grace' le gospel larmoyant , mon voisin s'étrangle dans son hoquet .
Merci Rumst ! Boucan rumstois ,OK on vous rejoue 'Georgia ' because you need a good gospel for your soul , bande de zatlaps et de sinners
...Just an old sweet song Keeps Georgia on my mind...