Anthony Geraci

(US)
tiltle: Why Did You Have To Go
music: blues - NOLA
release date: 2018
label: Shining Stone Records

info artist:
Anthony Geraci

© Rootsville 2018

Alleen al de line-up die op deze "Why Did You Have To Go" wordt voorgesteld is gewoonweg onwaarschijnlijk te noemen. Zowat iedere blues muzikant die naam heeft komt hier op deze nieuwe plaat van key-slinger Anthony Geraci zijn opwachting maken. Namen als Ronnie Earl, Brian Templeton, Kid Ramos, Sugaray Rayford, Sugar Ray Norcia, Monster Mike Welch, het zijn er waarempel teveel om te gaan opnoemen.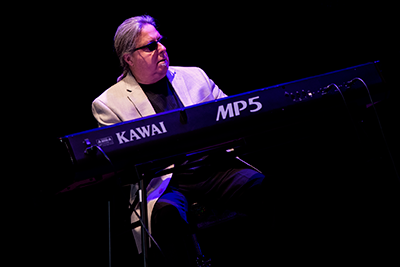 photo Anthony Geraci (2017) © Rootsville
Anthony Geraci werd in 1954 geboren in New Haven en kwam al vlug in de ban van de "Black & White Keys". Ondertussen is Anthony een veteraan te noemen in de blues scène en speelde hij door de jaren heen samen met heel wat namen als Muddy Waters, Big Joe Turner, J.B. Hutto, Otis Rush, Big Mama Thornton, BB King en Buddy Guyom er maar een paar te gaan noemen.
Geraci is een origineel lid van Sugar Ray and the Bluetones en van Ronnie Earl and The Broadcasters waarmee we hem vorig jaar nog aan het werk zagen bij KTBA te Vlierden. In 2008 werd hij genomineerd voor twee W.C. Handy Awards. Voor zijn album 'Fifty Shades Of Blue' uit 2015 (album report) kreeg hij drie nominaties (Album of the Year, Traditional Album of the Year en Song of the Year voor het titelnummer). Geraci werd ook genomineerd voor de prestigieuze Pinetop Perkins Piano Player of the Year Award.
Zijn nieuwe album "Why Did You Have To Go" is verschenen op 21 september met daarop 13 outstanding nummers. Nog net geen tearjerker maar wel een soulbluesje van uitstekende kwaliteit wordt de openingstrack gezongen Sugar Ray Norcia. Zonder Sugar Ray uiteraard ook geen Monster Mike Welch die zijn sixstring onmiddellijk laat spreken. Ook "Angelina, Angelina" hoort thuis is het rijtje van slowbluesjes, ditmaal met aan het klankbord ene Sugaray Rayford. Met "Fly On The Wall" gaat het resoluut richting New Orleans met Anthony zlef in de hoofdrol. Ook "Long Way Home" valt nog onder de noemer NOLA.
Prachtig is de stem van Michelle 'Evil Gal' Willson op het jazzy "Two Steps Away From The Blues" en ook het daaropvolgende "Time's Running Out" komen de jazzy licks van Ronnie Earl meer dan over. "Why Did You Have To Go" is een opeenvolging van highlights en met als afsluiter " A Minor, Affair" leggen we al vlug de link met Art Blakey & The Jazz Messengers. Knap!!!

tracks:
01. Why Did You Have To Go (Feat. Sugar Ray Norcia & Monster Mike Welch)
02. Don't The Grass Look Greener (Feat. Sugaray Rayford, Kid Ramos & Monster Mike Welch)
03. Fly On The Wall (Feat. Willie J. Laws, Jimi Bott, Willie J. Campbell & Kid Ramos)
04. Angelina, Angelina (Feat. Sugaray Rayford, Monster Mike Welch, Willie J. Campbell & Jimi Bott)
05. Long Way Home (Feat. Sugaray Rayford, Kid Ramos, Willie J. Campbell & Jimi Bott)
06. Two Steps Away From The Blues (Feat. Michelle 'Evil Gal' Willson & Monster Mike Welch)
07. Time's Running Out (Feat. Sugar Ray Norcia, Ronnie Earl & Monster Mike Welch)
08. Baptized In The River Yazoo (Feat. Willie J. Laws)
09. Too Many Bad Decisions (Feat. Dennis Brennan & Monster Mike Welch)
10. What About Me (Feat. Michelle 'Evil Gal' Willson, Brian Templeton & Monster Mike Welch)
11. Hand You Your Walking Shoes (Feat. Dennis Brennan & Monster Mike Welch)
12. My Last Good-Bye (Feat. Sugar Ray Norcia, Ronnie Earl & Monster Mike Welch)
13. A Minor, Affair (Feat. Kid Ramos, Willie J. Campbell & Jimi Bott)
musicians:
Anthony Geraci: piano, Hammond
Sugar Ray Norcia: harmonica, vocals
Monster Mike Welch: guitar
Sugaray Rayford: vocals
Kid Ramos: guitar
Willie J. Laws: vocals
Jimi Bott: drums
Willie J. Campbell: bass
Michelle 'Evil Gal' Willson: vocals
Ronnie Earl: guitar
Dennis Brennan: vocals
Brian Templeton: vocals
Michael 'Mudcat' Ward: bass
Neil Gouvin: drums
Troy Gonyea: guitar
Marty Richards – drums
Gordon Sax Beadle – saxofoon
Doug Woolverton – trompet