The BB King Blues Band
(US)
tiltle: The Soul Of The King
music: Blues
release date: may 10, 2019
label: Ruf Records
info artists: The BB King Blues Band


© Rootsville 2019

Het is ondertussen al vier jaar geleden dat mijn favoriete blues artiest kwam te overlijden. BB King (1925-2015) heeft zowat op iedere blues liefhebber een diepe indruk nagelaten. Normaliter ben ik er principieel tegen wanneer er geld verdient wordt met iemands dood. Met deze "The BB King Blues Band" zal dit evenwel niet het geval zijn maar komt dit te betuigen van een weergaloos respect voor de grootste King ever. Wanneer je daarenboven nog eens namen als een Kenny Wayne Shepperd, Kenny Neal, Joe Louis Walker en een Diunna Greenleaf samen kan brengen maken we daarenboven nog eens een diepe buiging voor deze muzikanten. Deze "The Soul Of The King" wrodt uitgebracht bij het Duitse "Ruf Records".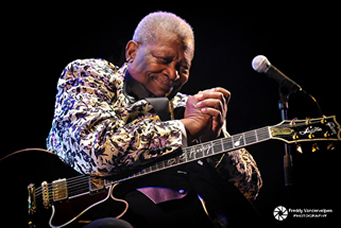 photo BB King @ Cognac Blues Passions 2009 © Rootsville
Het is een muzikale erfenis van een man die als katoenplukker begon en zo opklom tot de hoogste regionen van de Blues. In 2016 ontving Riley Ben King de "President Medal of Freedom", de hoogste burgeronderscheiding in de VS. Zijn grootste hit was een cover van Roy Hawkings zijn "The Thrill Is Gone" uit 1951. Zijn gitaarspel en welgekende rifjes werden zijn signature tijdens zijn lange carrière.
Producer Terry Harvey wil met deze "The Soul of The King" verder gaan dan waar het verhaal op 14 mei 2015 abrupt stopte. Een verhaal met daarin 13 nummers die het leven van BB King komen weer te geven. Nummers als "Sweet Little Angel", "Paying The Cost To Be The Boss" en uiteraard "The Thrill Is Gone" gebracht door de warme stemmen van Russell Jackson, Kenny Neal, Diunna Greenleaf, Eric Demmer en een Joe Louis Walker waarvij met momenten de rillingen over je heen komen. Met een nummer als "Low Down" als een levensecht verhaal lijkt het wel of we zijn funeral in Mississippi sfeer komen te herbeleven.
"The BB King Blues Band", respect!

tracks CD:
01 Irene Irene
02 Sweet Little Angel
03 There Must Be A Better World Somewhere
04 Paying The Cost To Be The Boss
05 Low Down
06 She's The One
07 Taking Care Of Business
08 Becoming The Blues
09 Hey There Pretty Woman
10 Here Today, Gone Tomorrow
11 Regal Blues (A Tribute To The King)
12 Pocket Full Of Money
13 The Thrill Is Gone

musicians:
Russell Jackson Lead Vocal (1,5,7,8)
Kenny Wayne Shepherd Guitar (1)
Kenny Neal Lead Vocals, Guitar Solo (2), Harmonica Solo (8)
Diunna Greenleaf Lead Vocals (3), Background Vocals (8)
Eric Demmer Lead Vocals (6), Alto, Saxophone Solo (3,4), Saxophone Solo (6,9), Tenor, Saxophone Solo (7)
Mary Griffin and Taj Mahal Lead Vocals and Guitar (4)
Lamar Boulet Trumpet (5), Trumpet Solo (12)
Krik Joseph Tuba (5)
James "Boogaloo" Bolden & Johns Dell Toro Richarson Backgroundvocals (7)
Wilbert Crosby Guitar Solo (7,8,)
James "Boogaloo" Bolden Lead Vocals (9, 10, 12)
Darrell Lavigne Keyboard Solo (10)
Joe Louis Walker Lead Vocals, Guitar Solo (11)
Michael Lee Lead Vocals, Guitar Solo (13)