Norman Beaker

(UK)
tiltle: Running Down The Clock
music: Blues
release date: may 08, 2020
label: Wienerworld
promotion: Wienerworld
info artist: Norman Beaker


© Rootsville 2020

Norman Beaker is een bluesgitarist, zanger, songwriter, bandleider en producer die sinds het begin van de jaren 70-tig betrokken is geweest bij de Britse blues scène. Met de "Norman Beaker Band" heeft hij getourd en opgenomen met vele blues artiesten, waaronder Chuck Berry, Jimmy Rogers, Alexis Korner, Buddy Guy, Lowell Fulson, Fenton Robinson en B. B. King. Beaker toerde regelmatig met Chris Farlowe, Larry Garner en Van Morrison. Hij heeft als sessiegitarist bijgedragen aan vele opnames, waaronder Jack Bruce, Lowell Fulson, James Booker en Van Morrison. Op zevenjarige leeftijd leerde Beaker zichzelf gitaar spelen.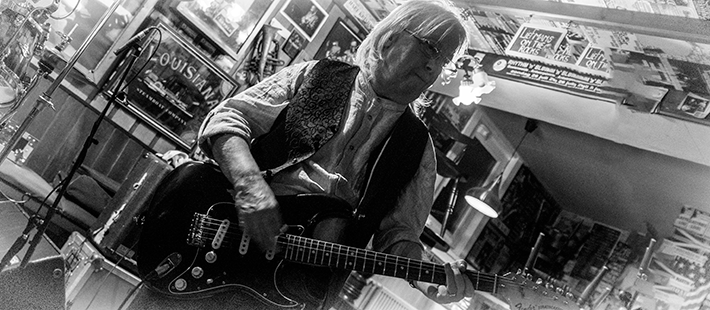 photo Norman Beaker © Rootsville
In 2017 werd Norman Beaker pas de achtste Britse legende in de Blues Hall Of Fame naast Eric Clapton, Mick Jagger, Keith Richards, Jack Bruce, Peter Green, John Mayall en Jeff Beck. Deze "Running Down The Clock" is Norman's nieuwste release. Een album dat is opgenomen in Zagreb, Kroatië met John Price op basgitaar en Leo Baltazar op drums zorgen voor een echt krachtige, smaakvolle ritmesectie. Alle nummers op 'Running Down The Clock' zijn allemaal origineel en geven tekstueel weer wat is gebeurt in onze moderne tijd.
18 nummers werden geselecteerd om deze "Running Down The Clock" een volwaardig album te maken. Openen doet Norman en zijn band als volleerde pubrockers met "Take Me To Your Pleasuredome". De Britse blues scène heeft steeds een voorname rol gespeeld in de revival of the blues. Mooi is ook dan de ballad met de toepasselijke titel "What We Do For The Blues".
Het rockin' gevoel zal altijd ook zijn stempel dragen op de Britse blues zoals het footstompin' "My Great Escape". Met "Take It Or Leave It" krijgen we dan een mix van een beetje psychedelische blues met daarin een gitaarrifje dat me doet terugdenken aan Mark Knopfler. Een terajerker waardig is zeker ook de ballad "She Heals My Soul".
Van de rockin beat op " Long Before You Came Along" over het romantisch aanvoelende "Summer Song" tot en met titeltrack "Running Down The Clock", deze 18 nummers weerspiegelen perfect de sfeer die Norman Beaker en zijn band telkens weer weten te creëren op hun "live" concerten, ook de aflsuitende boogie met "She Comes With A Warning"....
tracks:
01. Take Me To Your Pleasuredome
02. What Am I Doing Here
03. What We Do For The Blues
04. Making It Up
05. My Great Escape
06. Take It Or Leave It
07. She Heals My Soul
08. In Your Hands
09. Long Before You Came Along
10. Digital Curse
11. Summer Song
12. Heart Of Stone
13. Running Down The Clock
14. Lady Of The Moon
15. Feeling From The Start
16. K.O.d
17. Change To Us
18. She Comes With A Warning