Popa Chubby
(US)
tiltle: It's A Mighty Hard Road
music: Blues - Bluesrock
release date: february 14, 2020
distribution: Dixiefrog/Bertus
info artist: Popa Chubby
promotion: Hans Broere Promotion


© Rootsville 2020

Theodore Horowitz aka "Popa Chubby" aka "The beast from The East" staat ondertussen al meer dan 30 jaar op de planken en dat mag dus gevierd worden met een jubileum album. Wie "Popa Chubby" nog niet "live" heeft gezien werd misschien ontvoerd door aliens want Mr. Horowitz is jaren alom aanwezig geweest op onze podia.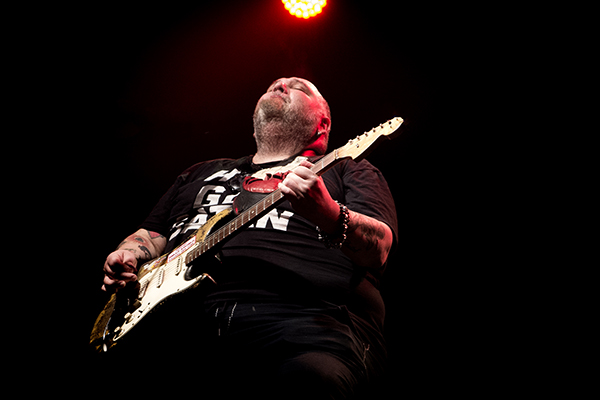 Popa Chubby @ Swing Wespelaar (2017) © Rootsville
Na zijn album "Prime Cuts" (The Best Of) voegt "The Master Of Disaster" weerom een album toe aan het al lange lijstje en toch kunnen we dit alleen maar toejuichen. Waarom? Op een album brengt Popa Chubby meer originals dan op een "Live concert" en dan stelt hij zich ook menselijker en soms breekbaarder op dan wat we van hem gewend zijn. Zo ben ik ook dikke fan van de albums "Flashed Back" en "Vicious Country" die hij met zijn ondertussen ex-vrouw Galea uit bracht.
Op deze "It's A Mighty Hard Road" vinden we 15 nummers terug waarop enkel "I'd Rather Be Blind" van Leon Russel, Don Nix en Donald Dunn en "Kiss" van zijn hoogheid Prince covers zijn. Dus 13 eigen originals gaande van blues over bluesrock tot rock 'n roll. Opener is het alom aanwezige "The Flavour Is In The Fat". Met nummers als titeltrack "It's a Mighty Hard Road " en "It Ain't Nothin' " krijgen we shuffles die dan een gans ander licht werpen op Popa Cubby.
"Buyer Beware" en "If You're Looking for Trouble" vallen dan weer onder de noemer bluesrock. De meeste van de nummers werden opgenomen in "Chubbyland" in de Hudson vallei NY met Popa Chubby zelf achter de knoppen. Met het slowbluesje "The Best Is Yet to Come" krijgen we de romantische kant van hem te horen. Soul en slow! net als op "Lost Again" en zo komen we dan uiteindelijk bij de covers. "I'd Rather Be Blind" en het funky "Kiss" maken zo deze meer dan 30 jaren van blues en rock 'n roll compleet. Deze "It's A Mighty Hard Road" kent zijn officiele release op 14 ferbruari 2020.

tracks:
01 The Flavor Is in the Fat
02 It's a Mighty Hard Road
03 Buyer Beware
04 It Ain't Nothin'
05 Let Love Free the Day
06 If You're Looking for Trouble
07 The Best Is Yet to Come
08 I'm the Beast from the East
09 Gordito
10 Enough Is Enough
11 More Time Making Love
12 Why You Wanna Bite My Bones?
13 Lost Again 5:17
14 I'd Rather Be Blind
15 Kiss

musicians:

Ted Horowitz: guitars on all tracks, lea and background vocals, all percussion; Drums on tracks 5, 6, 7, 10, 11, 12, 14, 15; Harmonica on track 15; Bass on tracks 5, 6, 7, 8, 10, 11, 12 , 14, 15; Keys on track 5
Dave Keyes: Piano and Organ on all tracks
Steve Holley: Drums on tracks 1,2,3 4
Don Castagno: Drums on tracks 8, 9, 13
Brett Bass: Fender Bass on tracks 1, 2, 3, 4
V.D. King: Bass on tracks 9, 13