Blues- en soulzanger, songschrijver en producer Shawn Ellis Amos werd geboren in New York, maar woont sinds zijn jeugd in Los Angeles. Hij is ook bekend in de filmwereld en werkte in het verleden samen met artiesten als Solomon Burke, Mindi Abair en The Blind Boys Of Alabama. Shawn Ellis Amos is ook een ondernemer in digitale marketing. Amos is het best bekend als blueszanger en mondharmonica-speler, "The Reverend Shawn Amos." Hij heeft meerdere studio en live albums uitgebracht onder die naam.
Sinds de release van de veelgeprezen, politiek geladen "Breaks it Down" van 2018, is de Rev non-stop onderweg. In 2019 stapte hij uit in Texas, waar het zuiden begint, het westen eindigt, en er begint iets anders vorm te krijgen - een wereld, geografisch en cultureel, verwijderd van zijn geboorteland LA. Hier verzamelde hij de "Brotherhood" en creëerde een gevoel van thuis in zijn onthechtheid. Blade, Thomas en Roberts bieden niet alleen muzikale, maar ook spirituele en emotionele ondersteuning bij het omarmen van nieuw territorium, artistiek en andersgezind.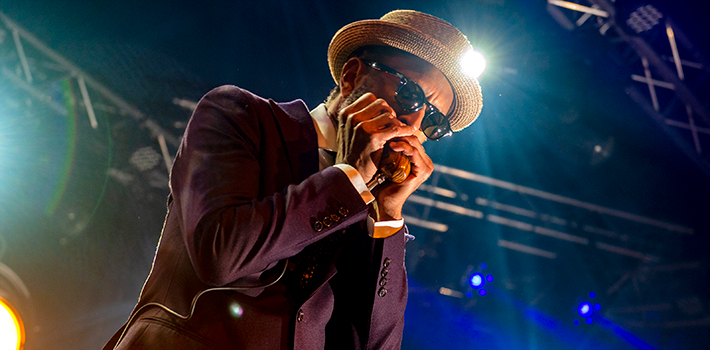 photo Reverend Shawn Amos © Rootsville
In tegenstelling tot eerdere Shawn Amos-samenwerkingen met Matthew Sweet en Solomon Burke, zit de "Brotherhood" er voor de lange termijn. "Blue Sky" is de debuutrelease van "The Reverend Shawn Amos & The Brotherhood". Deze plaat geeft een vertrouwd gevoel aan een bekend genre.

Vroege hoogtepunten op "Blue Sky" zijn de zware bluesgroove van "Troubled Man", in samenwerking met Ruthie Foster, en "Counting Down The Days". De zachtere kant van de blues wordt verkend in het door Americana beïnvloede "Stranger Than Today" en het soulvolle "The Pity And The Pain". "Albion Blues" toont ondertussen Amos bekwame mondharmonicaspel. Afsluiten doen "The Reverend Shawn Amos & The Brotherhood" in NOLA stijl samen met de "Mudbug Brass Band" op "Keep the Faith, Have Some Fun".
tracks:

01 Stranger Than Today
02 Troubled Man (feat. Ruthie Foster)
03 Her Letter
04 Counting Down the Days
05 Hold Back
06 The Job Is Never Done
07 The Pity and the Pain (feat. Kenya Hathaway)
08 Albion Blues (feat. Kenya Hathaway)
09 27 Dollars
10 Keep the Faith, Have Some Fun (feat. Mudbug Brass Band)
musicians:
The Reverend Shawn Amos

The Brotherhood:

Barady Blade
Doctor Roberts
Christopher "CT" Thomas

The Sisterhood:

Ruthie Foster
Piper Amos
Sharlotte Gibson
Kenye Hathaway