Whitney Shay
(US)
tiltle: Stand Up!
music: Blues - Rhythm 'n Blues
release date: february 28, 2020
label: Ruf Records
info artist: Whitney Shay


© Rootsville 2020

Vorig jaar op "Swing Wespelaar" openbaarde daar plots voor onze ogen ene "Whitney Shay" aan de zijde van Nico Duportal en Frabrice Bessouat, en wat een wervelend concert zou dat gaan worden. To dan een onbeschreven blad. Na een aangename babbel op "Swing" kwamen we al vlug dat we met een Scottie 'Mad Dog' Blinn een gemeenschappelijke vriend hadden in de area van San Diego Cal. Dus onmiddellijk contact met Californië niet nadenkend over het uur al ginds en zo werden er nieuwe vriendschapsbanden gesmeed.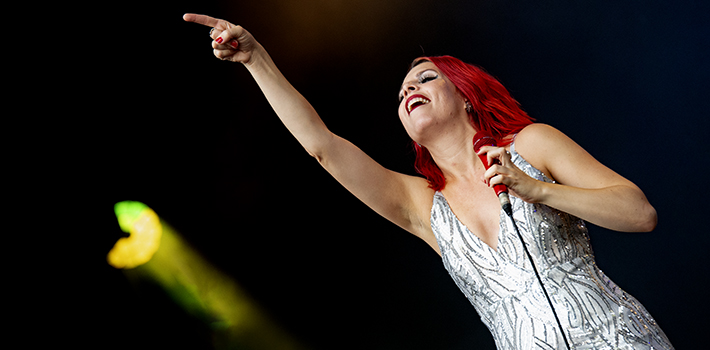 photo Whitney Shay © Rootsville
Ook "Thomas Ruf" van "Ruf Records" en de jaarlijkse "Blues Caravan" was deze wervelende senatie niet ontgaan en kijk daar is de "Blues Caravan" editie 2020 met Jeremaih Johnson (album report), Ryan Perry en...Whitney Shay. Uiteraard brengt spelen in deze "Blues Caravan" enkele verplichtingen met zich mee zoals het uitbrengen van een nieuw album onder de vleugels van "Ruf Records".
In 2018 bracht ze nog het swingende album "A Woman Rules The World" uit maar deze "Stand Up!" verbergt nog een extra dimensie dynamiet en dynamiek in zich. Alleen als je al bekijkt aan wie hun medewerking verleenden aan de opname van dit album begin je al te duizelen. Uiteraard is vaste waarde bij "Ruf Records" Laura Chavez aanwezig maar opmerkelijk zijn toch ook "The Texas Horns" met 'Kaz' Kazanoff, John Mills en Al Gomez. Daarmee is het illustere rijtje nog niet ten einde en wat dacht je van "Marcia Ball" die op "Boy Sit Down" de black & white keys komt te beroeren. Last but not least is er op "Far Apart (Still Close) " het sexy duet met niemand minder dan "Guy Forsyth".
Rhythm 'n blues alom met opener en titeltrack "Stand Up!" en dat is de enige manier om ten volle van dit wervelend album te gaan genieten. Een andere floorfiller is zonder meer het soul getinte "Someone You Never Got To Know" en daarmee kan het al niet meer stuk. De dynamische inbreng van "The Texas Horn" is zonder meer een pluspunt te noemen. Enige deep south blues krijgen we met dan met nummers als "Equal Ground" en de Procol Harum-achtige ballad " I Thought We Were Through", rillingen alom!
Ook met het funky "Far Apart (Still Close)" met in duet Guy Forsyth is het genieten. Dance, dance, dance dan met "You Won't Put Out This Flame" en "Tell The Truth" waarna de NOLA ritmes hun intrede doen mede door Marcia Ball. Even een cool down dan met de sleeper "I Never Meant To Love Him", een nummer dat een beetje Otis Redding feelin' in zich heeft. Met de swingende gospel outro op "Change With The Times " kunnen we nu al niet wachten tot de "Blues Caravan" in de buurt is. WOW! en zoals ze zelf besluit in de liner-notes...I've done my job!
8 mei in "De Korenbloem" bluesnight te Zingen!!!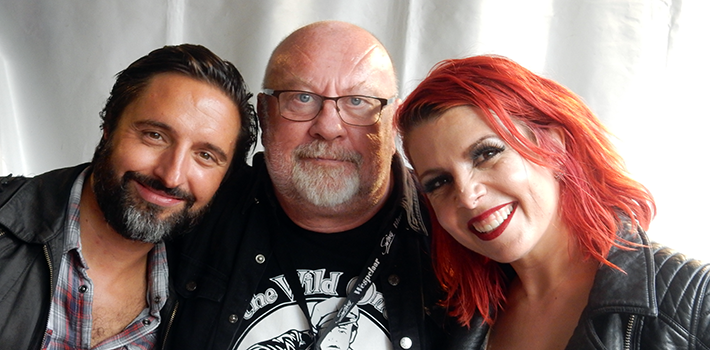 met Frabrice Bessouat, Whitney Shay op Swing © Rootsville

tracks:
01 Stand Up!
02 Someone You Never Got To Know
03 Equal Ground
04 P.S. It's Not About You
05 I Thought We Were Through
06 Far Apart (Still Close)
07 You Won't Put Out This Flame
08 Tell The Truth
09 Boy Sit Down
10 I Never Meant To Love Him
11 Getting In My Way
12 Change With The Times
musicians:
Whitney Shay - vocals
Red Young - keyboards
Laura Chavez - guitar
Chris Maresh - bass guitar
Brannen Temple - drums and percussion (Tracks 1, 2, 3, 4, 5, 6, 9, 11)
Tommy Taylor - drums (Tracks 7, 8, 10, 12)
Marcia Ball - piano (Track 9)
Guy Forsyth - duet vocal (Track 6), resonator guitar (Track 9)
Derek O'Brien - slide guitar (Track 3)
The Texas Horns:

'Kaz' Kazanoff - tenor saxophone
John Mills - baritone saxophone & flute
Al Gomez - trumpet

Background vocals:
Alice Sadler, Whitney Shay, and 'Kaz' Kazanoff
Guy's Guys (Track 9):

Guy Forsyth, Drew Potter, John Mills, Al Gomez, 'Kaz' Kazanoff, Joey Benjamin
Charles Godfrey - Cowbell (Track 4)