Anthony Geraci (US)
tiltle: Blues Called My Named
music: Blues
release date: may 20, 2022
label: Blue Heart Records
promotion: Blind Raccoon (Betsy Brown)
info band: Anthony Geraci

© Rootsville 2020

Anthony Geraci werd in 1954 geboren in New Haven en kwam al vlug in de ban van de "Black & White Keys". Ondertussen is Anthony een veteraan te noemen in de blues scène en speelde hij door de jaren heen samen met heel wat namen als Muddy Waters, Big Joe Turner, J.B. Hutto, Otis Rush, Big Mama Thornton, BB King en Buddy Guy om er maar een paar te gaan noemen.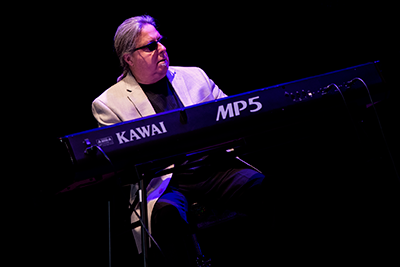 Anthony Geraci photo © Rootsville
Geraci is een origineel lid van Sugar Ray and the Bluetones en van Ronnie Earl and The Broadcasters waarmee we hem vorig jaar nog aan het werk zagen bij KTBA te Vlierden. In 2008 werd hij genomineerd voor twee W.C. Handy Awards. Voor zijn album 'Fifty Shades Of Blue' uit 2015 kreeg hij drie nominaties (Album of the Year, Traditional Album of the Year en Song of the Year voor het titelnummer). Geraci werd ook genomineerd voor de prestigieuze Pinetop Perkins Piano Player of the Year Award.
Wanneer Anthony Geraci dan zijn eigen albums uitbrengt is het meteen een schot in de roos, getuige ook "Daydreams in Blue" uit 2020. Voor zijn nieuwe album "Blues Called My Name" deed hij beroep op collega muzikanten als Walter Trout, Sugar Ray Norcia, Monster Mike Welch, The Boston Blues All-Stars en nog een paar andere. Een album dat wordt uitgegeven bij "Blue Heart Records".
Op het album vinden we 10 originals terug en gelukkig staan de black & white keys ook cen,traal want zo zijn er maar liefst 5 instrumentale nummers te horen zolas het prachtige en jazzy getinte "About Last Night". Opener van dit album is "That Old Pine Box" waarop de vocals ingevuld worden door zijn blues buddy Sugar Ray Norcia. DE samenwerking van Sugar Ray Norcia en het uitstekende gitaarwerk van Monster Mike Welch levert dan de titeltrack van dit album.
Op het instrumentale "Boston Stomp" levert Geraci prima werk op de barrelhouse piano waarbij de boogie woogie trend op het voorplan treed. "Corner of Heartache and Pain" is dan weer een bluesje pure sang met in de hoofdrol Erika Van Pelt, een jazzy singer die in de picture kwam tijdens het 11de seizoen van American Idol. Op "I Go Ooh" houdt Anthony Geraci de eer aan zichzelf door hier ook de vocals op zich te nemen; trouwens het enige nummer op deze "Blues Called My Name" waarop hij dit doet.
"Into the Night" wordt dan weer gekenmerkt door het fijnere gitaarwerk ditmaal door niemand minder dan Walter Trout waarna op " I Ain't Going to Ask" het reug de beurt is aan Sugar Ray Norcia om de vocals waar te nemen. Een rumba getint bluesje als "Song for Planet Earthh" zorgt dan weer voor de afsluiter van dit mooie album.
tracks:
01. That Old Pine Box
02. The Blues Called My Name
03. About Last Night
04. Boston Stomp
05. Corner of Heartache and Pain
06. I Go Ooh
07. Into the Night
08. I Ain't Going to Ask
09. Wading in the Vermillion
10. Song for Planet Earth